"Where to buy bone broth?" is a common question among my health-conscious friends. I have my favorite brands, but why buy when you can easily make your own homemade, golden, rich, nutrient-dense, gut-healing, gelatinous beef bone broth at home? It has taken me YEARS of trial and error to finally see that joyous glump of gelatinized bone broth in my fridge. I've tried on the stove, in my slow cooker, at different altitudes….you name it, and I had not been able to capture natures collagen in little mason jars. My bone broth has tasted delicious every time, but never gets that goopy consistency that is prized by all. The secret is in the bones and the apple cider vinegar and is super easy to DIY.
You'll Never Need to Know Where to Buy Bone Broth Again!
There is no question that bone broth is one of the most versatile foods that one can consume. Aside from the cancer fighting and disease prevention properties, bone broth is a healing, anti-aging food. It reduces inflammation and joint pain, is naturally gut-healing and immune boosting, heals disorders such as asthma, food sensitivities, and allergies. And, did you know that gelatinous, homemade bone broth is rich in collagen and gelatin, which REDUCES CELLULITE, BOOSTS METABOLISM, and supports hair, skin, and nails. Hello natures anti-aging serum!
Aside from the preventative and healing properties of homemade bone broth, I believe the comforting properties are similar to that of Grandma's chicken noodle soup! With three kids in school, a husband treating patients, and me in the classroom every morning, colds seem to pop up in our home more than occassionally. When they do, I swear this bone broth recipe heals the infected and protects the rest of the clan!
Homemade bone broth can be sipped in a mug and also used in a plethora of recipes. I am a 2 cup-a-day coffee drinker, one at 5am and one around 3pm, and have replaced my mid-afternoon pick-me-up with my homemade bone broth. It makes me instantly feel re-energized without the effects of caffeine that prevent me from falling asleep in the evening. This delicious broth can also be used during periods of intermittent fasting on the keto diet, depending on the duration of the fast. It will keep you satiated and makes the extended fasts feel like a breeze. I also use my broth to boil pasta and potatoes for my children, sauté and boil vegetables, and as a base for soup recipes. Bone broth is so healthy and good for my family that I use it every chance I get! Two of our three boys have eczema and one of them has severe nut and environmental allergies. It makes making this broth a labor of love to know that I am feeding them something that can lessen the symptoms of these issues for them.
Tips to Avoid Needing to Know Where to Buy Bone Broth
Use marrow bones and one neck bone if available.

You can make this recipe in a slow cooker. Change the cook time to 48 hours on low.

Purchase bones in bulk and store extra bones in freezer. Sometimes they are hard to come buy, and this will prevent you from having to drive to multiple butchers to purchase them.

Save your scraps from onions, celery, carrots, spices….really any vegetable in a ziplock bag in your freezer (ends, skins, and all!) until you are ready to make your bone broth.

After bone broth cools, do not skim fat until it has been refrigerated….it is easier to pull it out with a spoon when it is hardened.

Save your skimmed fat in a ziplock in the freezer for other recipes.

Store your bone broth in 16 ounce leaving about 2 inches at the top. If you freeze the broth, you will need to leave room for it to expand.

Remove hardened fat BEFORE freezing.

Bone broth can be stored in your refrigerator for up to 4 days.

Freeze bone broth for up to 3 months in the mason jars. To use, place in the refrigerator overnight to thaw, then heat in microwave or on stove until heated through.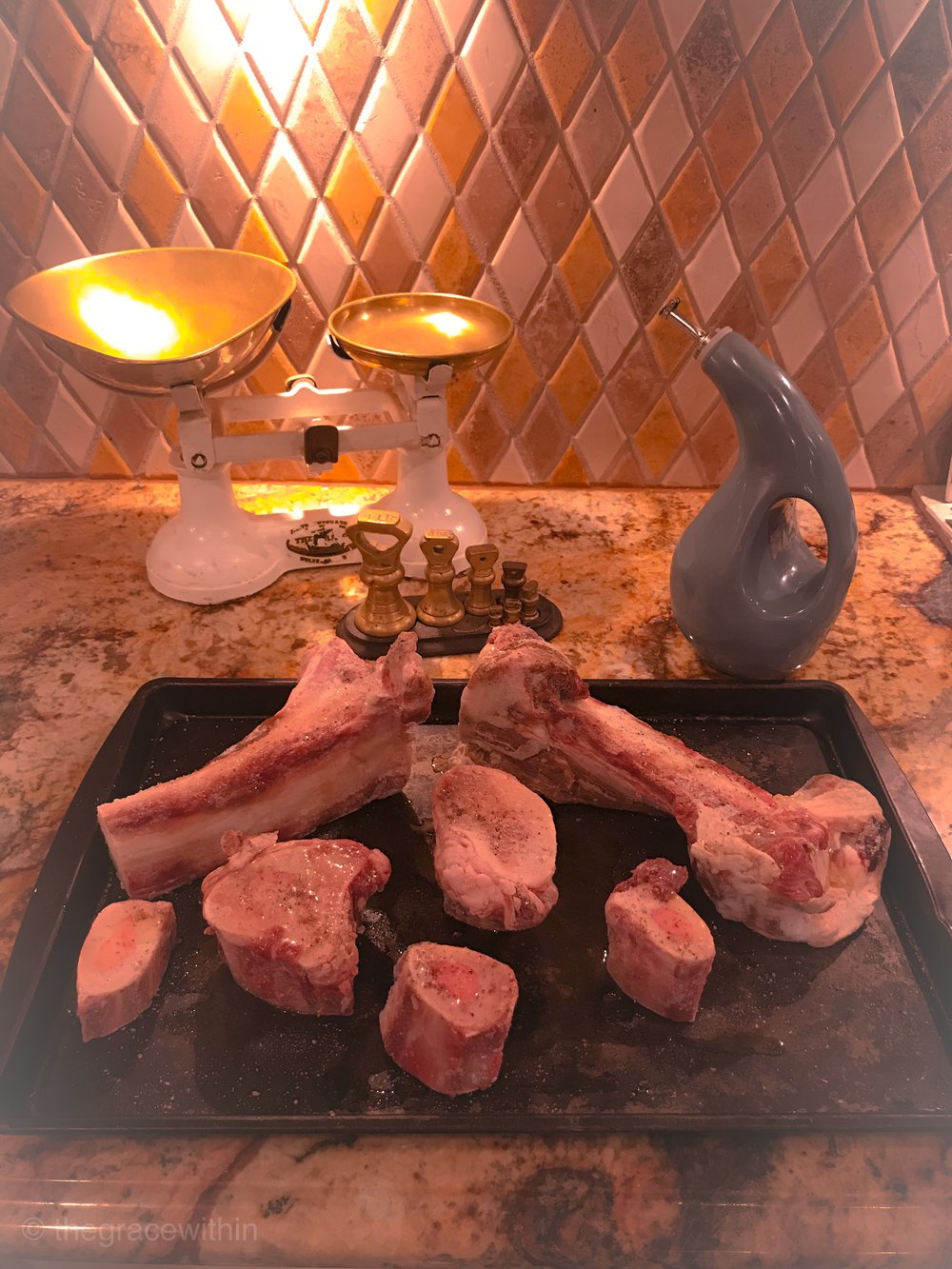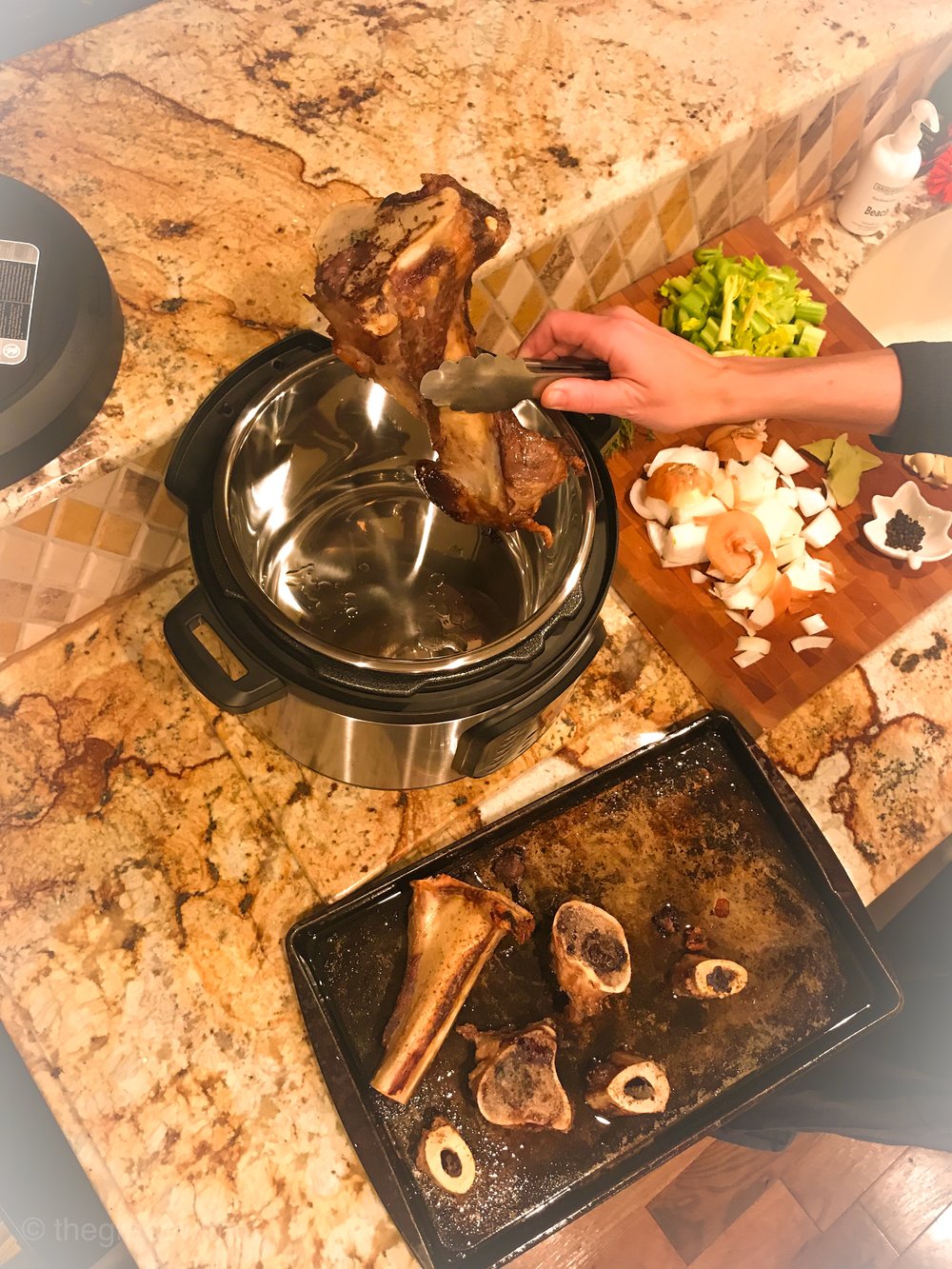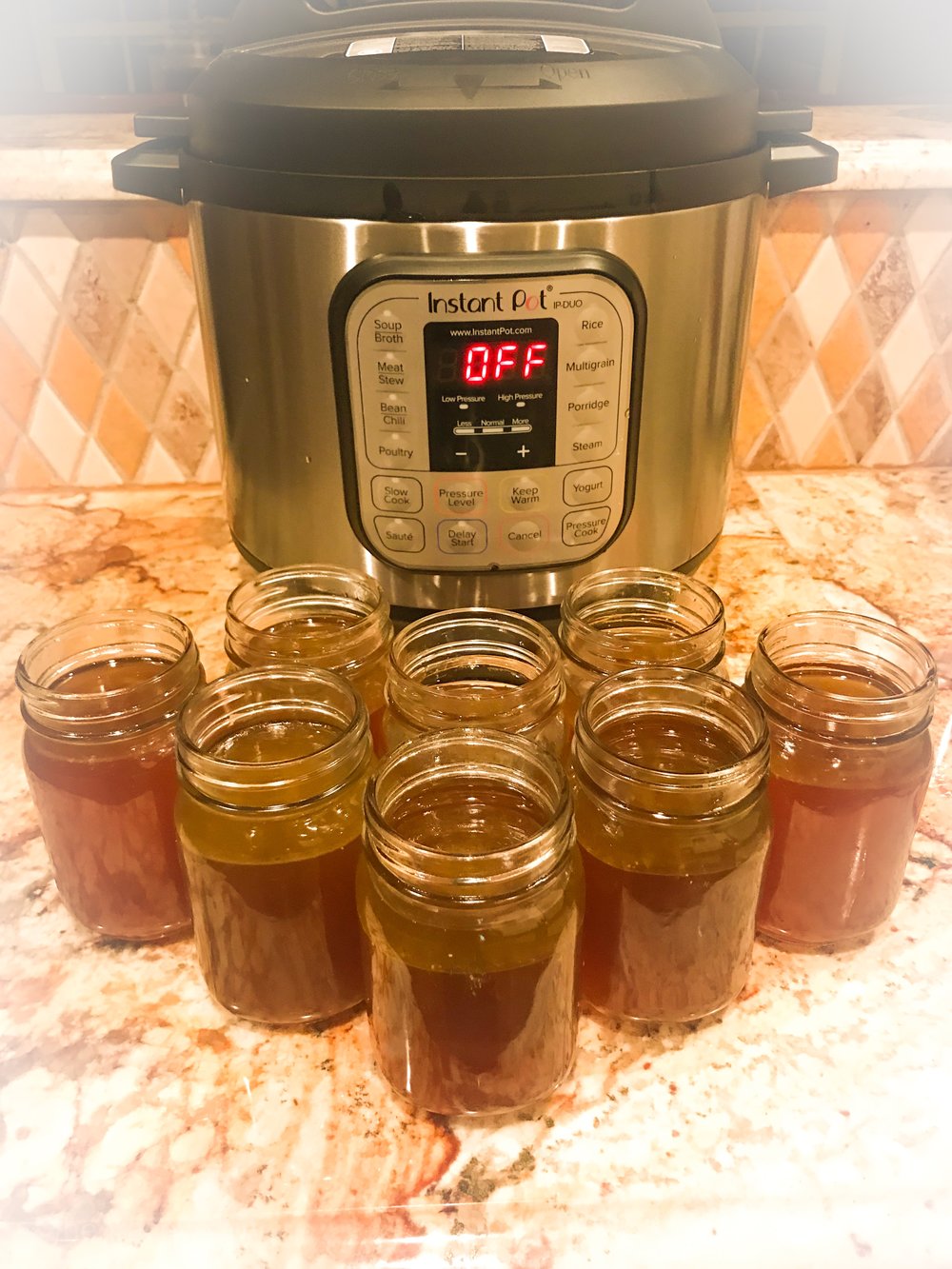 Items You Will Need
Yield: 4-8 (depending on the size of your cooker)
Where to Buy Bone Broth? How to Easily Make Your Own
prep time: 20 mins
cook time: 5 hour
total time: 5 hours and 20 mins
ingredients:
For the Bone Broth
1 Onion, roughly chopped with ends and skins included
1 Bunch of celery, roughly chopped (about 8 stalks)
3 Whole cloves garlic
3 Stems with springs fresh thyme
1 Bay leaf
1 Tbls Whole black peppercorns
2 Tbls Apple cider vinegar
Water – enough to cover the bones
instructions:
Roast the Bones
Preheat oven to 450 degrees
Line a lipped baking sheetwith foil
Arrange bones in a single layer
Drizzle with olive oil
Sprinkle with salt and pepper
Roast the bones for 25 minutes
Allow to cool for 10 minutes
For the Bone Broth
Using tongs, place roasted bones at the bottom of your Instantpot or Slow Cooker
Add all vegetables, spices, and apple cider vinegar
Pour enough water over the ingredients to cover the bones
Secure Instantpot lid and close the steam valve
Press the "pressure cook" button and set to high pressure
Set the time to 4 hours
When the cook time is complete, allow Instantpot to naturally release pressure for one hour
Open the vent valve and strain the broth through a large colander
Store in 16 ounce mason jars leaving 2 inches at the top
Allow broth to cool for 30 minutes before closing the lids
Refrigerate for up to 4 days and remove hardened fat before reheating
NOTES:
This recipe can be made in an Instantpot or an 8 quart slow cooker.  If using a slow cooker, follow instructions above and cook for 48 hours on low.